Main content starts here, tab to start navigating
Online ordering
We are striving to be as safe as possible in everything that we do. We are utilizing Chow Now to order and pay at the table if you choose. Otherwise, we are happy to take orders and ask for a credit card at the end of your meal. Bar tabs are unable to be contactless. No cash please.
Christmas Dinner 2020
Holiday Salad
local greens, red onion, candy cane beets, pistachios, dried cranberries, wild rice croutons, ginger snap vinaigrette
Rotisserie Turkey or Maple Glazed Ham
Wild Rice Stuffing
Mashed Potatoes
Cider Gravy
Maple Glazed Yam & Apples
Green Beans, cremini mushrooms & crispy shallots
Cranberry-Orange Relish
Pumpkin Pie
Cranberry bourbon caramel sauce, whipped cream
Adults $40
Children $15 (6-12 years)
3 PM - 8 PM on Thursday, December 24th
Noon - 8 PM on Friday, December 25th
Download PDF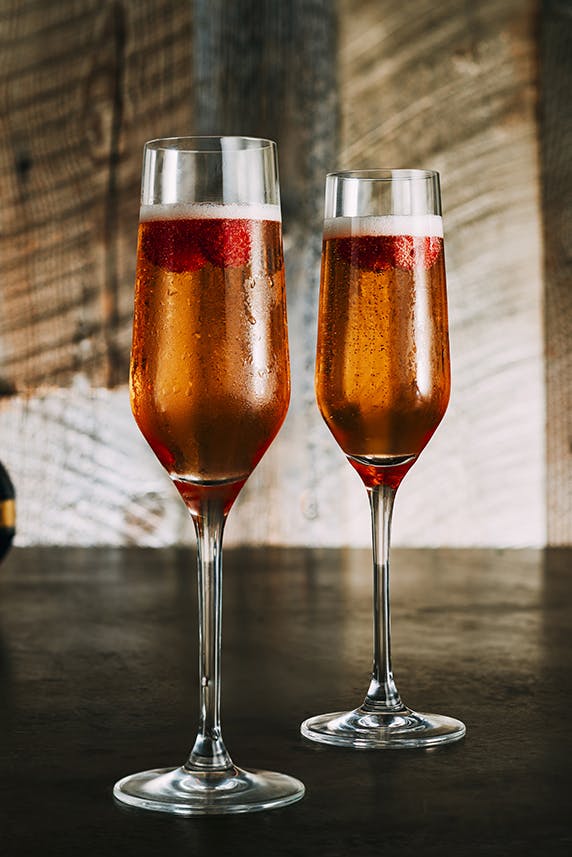 Slide 1 of 3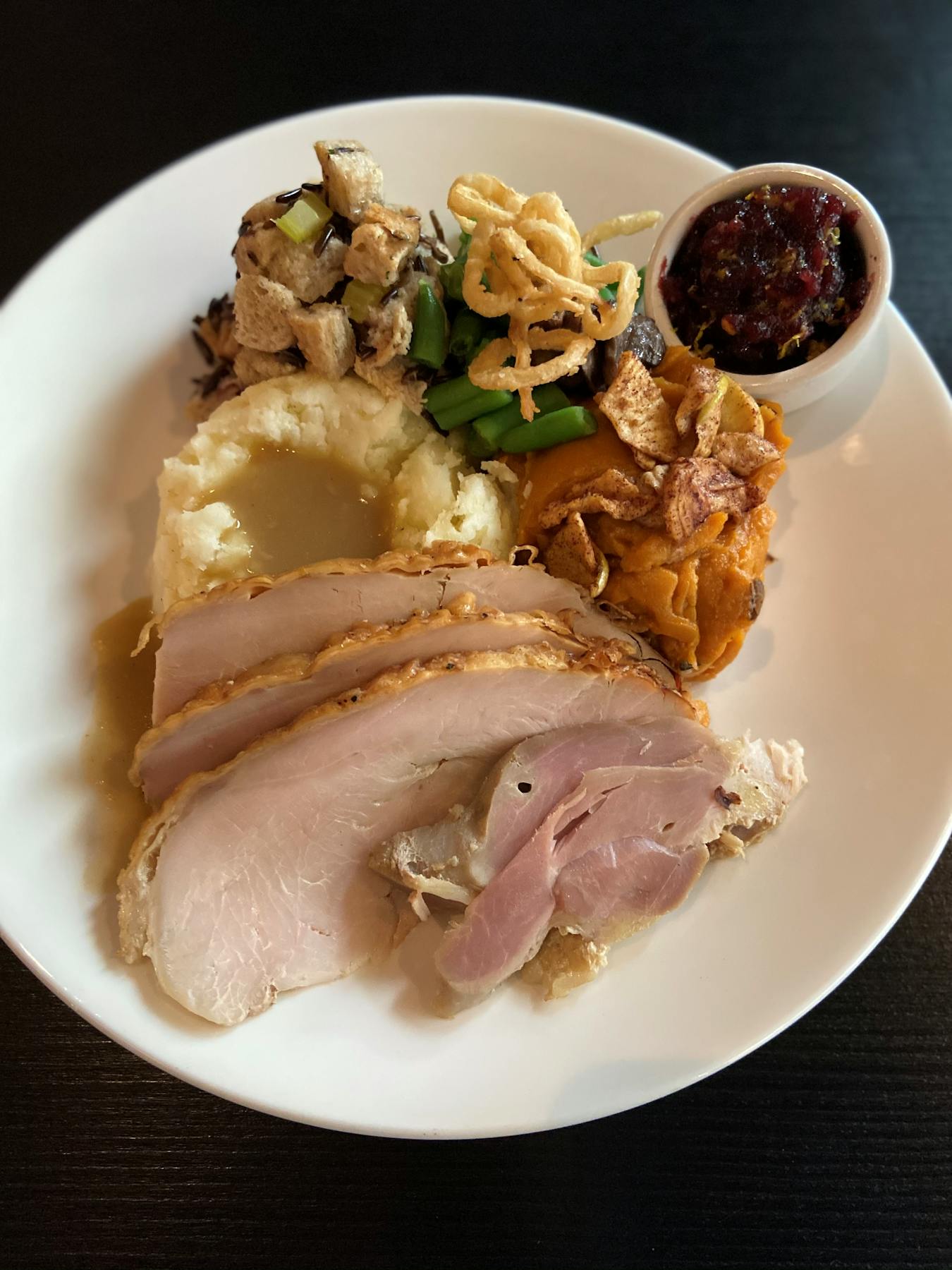 Slide 2 of 3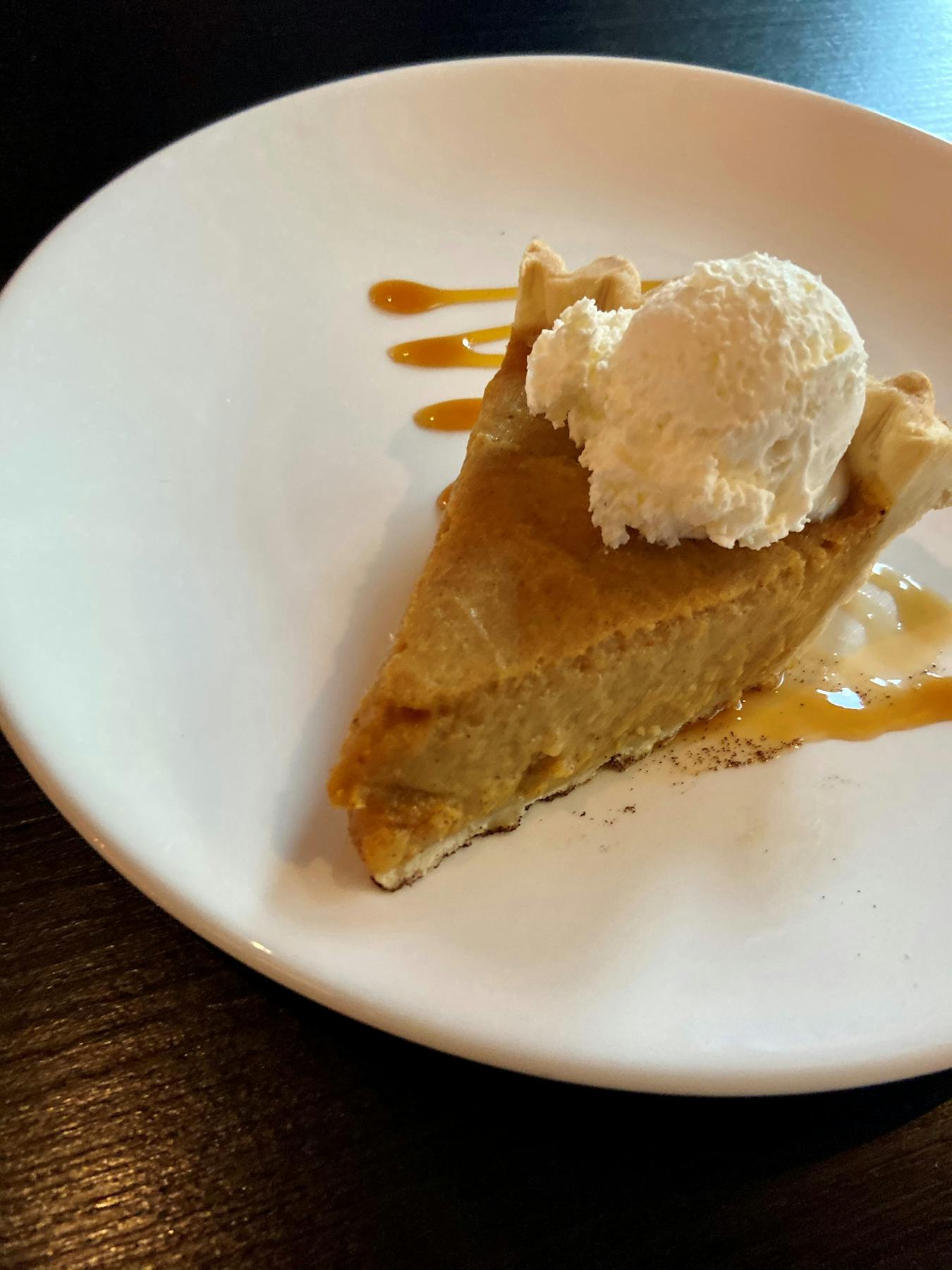 Slide 3 of 3
Fruits & Grains
Yogurt, Berries & Banana Split

Split banana, peanut butter power bites, fresh berries

$10

Steel Cut Oats

Dried fruit and almonds

$9

House-Made Granola

Choice of whole milk, 2% milk, almond milk or yogurt, topped with berries

$10

Freshly Baked Muffin

Seasonal variety

$4

French Croissant

House-made strawberry rhubarb jam

$5

Fresh Start

Sliced fruit, berries, organic yogurt, house-made granola, muffin

$14
Entrees
Rise & Shine*

Two cooked-to-order cage-free eggs, choice of thick-cut bacon, maple sausage, or wild acres turkey sausage patty

$14

Steak & Eggs*

Crispy potatoes, two cooked-to-order cage-free eggs, 80z flat iron steak

$23

Midwestern Omelet

Minnesota back bacon, onions, peppers, white cheddar

$14

Classic Eggs Benedict*

Minnesota back bacon, poached eggs, hollandaise

$15

Bacon, Egg & Cheddar Croissant

Freshly baked croissant, pecan-smoked bacon, white cheddar, over hard eggs

$10

Turkey Sausage & Egg Sandwich

Scrambled egg, wild acres turkey sausage, white cheddar, toasted bun

$11

Brick Oven Apple Dutch Baby Pannekoeken

Fresh apples, egg batter, powdered sugar, Minnesota maple syrup

$14

Ahh... Come On Pancakes

stuffed savory pancake with sausage, bacon, ham, peppers, onions, and cheddar cheese, two eggs, maple syrup

$14

Pancakes

Plain, blueberry or banana caramel

$12

Minnesota Malted Waffle

plain, berries & cream, or chocolate chip

$12

Spinach & Ricotta Omelet

baby spinach, tomato, onion, house ricotta, goat cheese

$14

GET UP Burger

half pound Revier ground beef, thick cut bacon, american cheese, hashbrowns, sunny side egg

$16
Sides
Pecan-Smoked Bacon

$4

Maple Sausage Links

$4

Wild Acres Turkey Sausage Patty

$4

Minnesota Back Bacon

$5

Cage Free Egg Solo*

$2

Cage Free Egg Duo*

$4

Rosti Potatoes

$4

Fresh Fruit

Melon, berries, pineapple, grapes

$5

Toasted Bagel

Choice of white or whole wheat

$4
Drinks
Fresh Orange Juice

Ruby Red Grapefruit Juice

$4.25

Apple Juice, V-8, Cranberry Juice

$3.95

Strawberry Lemonade Refresher

$4.75

Lavazza Classico Coffee

$4.25

Lavazza Espresso

$4.25

Lavazza Cappuccino

$5

Chai Tea Latte

$5.25

Sweet Matcha Latte

$5.25

Café Mocha

$4.50

Americano

$4.25

Bizzy Cold Brew & Cream

Qat Milk, Almond Milk and Soy Milk available

$5

Rishi Tea

English Breakfast, Earl Grey, Blueberry Rooibos, Peppermint Rooibos, Jasmine Green, Chamomile

$4.25
To Share or Not
Fried Cheese Curds

Eichten's cheese curds, house dipping sauce

$9

Basket of Chips and Dips

french onion dip, house-made snowshoe sauce

$9

Bourbon Maple Chicken Wings

fall-off-the-bone tender, spice roasted, bourbon maple sauce, pickles

$11

Cheese Flatbread

fresh mozzarella, spicy tomato sauce, house lemon ricotta, fresh basil

$14

Sausage Flatbread

roasted and pulled pancetta, tomato sauce, cheese, basil

$16

Chicken Flatbread

rotisserie chicken, spinach, pickled peppers, garlic cream sauce

$15
Soups & Salads
Spring Chicken & Spatzle Soup

pulled roasted chicken, vegetables, dumplings, broth & herbs

side soup $7

meal soup $11

MInnesota Wild Rice Soup

Cremini and Shirataki mushrooms, chicken, vegetables, cream

side soup $7

meal soup $11

Minnesota House Salad

local greens, tomatoes, carrots, cucumbers, red onions, sunflower seeds, chopped bacon, croutons, house made ranch

side salad $8

meal salad $13

Caesar Salad

romaine, lemon-anchovy dressing, shaved parmesan, garlic croutons

side salad $7

meal salad $11

Roasted Beet & Brussels Sprout Salad

roasted garlic & cracked black pepper aioli

side salad $8

meal side $13

Revol Greens & Quinoa Salad

toasted pumpkin seeds, dried cranberries, tomatoes, cucumbers, lemon dressing

side salad $8

meal salad $13
House Crafted Burgers
Served with your choice of freshly cut chips, natural cut fries or coleslaw
Backyard Cheeseburger*

half pound beef burger, white cheddar, lettuce, tomato, red onion, pickles, stone-ground mustard aioli.

$17

Bobby's Lucyblu Burger*

blue cheese stuffed, apple demi gastric, onion, bacon, hot peppers, topped with cheddar

$18

Vegetable Burger

Beyond Burger TM, white cheddar, lettuce, tomato, red onion, pickles, stone-ground

Plant-based burger $16

Spicy Bacon Bison Burger

Eichten's ground bison, roasted jalapeno thick cut bacon, American cheese, barbeque sauce, crispy onion strings, grilled buttery bun. Add ghost pepper cheese - no charge but you may pay for it later.

$18
Sides
Jo-Jo Potatoes

$8

Mashed Potatoes

gravy

$6

Heirloom Corn Bread Muffins

ghost pepper cheese, honey butter

$8

House-Made Warm Popovers

2 popovers, honey butter

$6

Brussels Sprouts Succotash

shaved brussels, roasted corn, soy beans, peppers, onion

$7

Natural Cut Fries

$7
Main Courses
Rotisserie Chicken

mashed potatoes & gravy, garlic sauteed spinach

$21

Mesquite Grilled Salmon*

roasted spaghetti squash, mushrooms, soy beans, tomato, green onion, fresh herb sauce, crispy onion

$29

Prohibition Corn Battered Walleye

wild rice hash, sauteed spinach

$28

Flat Iron Steak*

winter brussels sprout succotash

$29

Chicken Pot Pie

chicken, vegetables, gravy, golden pie crust. peas & carrots are served on the side

$18

Mesquite Grilled Revier Filet Mignon*

sauteed mushrooms, butter & thyme, mashed potatoes, red wine demi

$45

Kramarczuk's Polish Sausage

braised red cabbage, cheesy spatzle

$17

Spicy Spaghetti (Squash)

roasted squash, mushrooms, tomato, soybeans, green onion, tomato sauce. v/gf

$21
Dessert
Chocolate Chocolate Bundt Cake

whipped cream, berries

$7

Pumpkin Cheesecake

pumpkin seed pesto, roasted apples

$7

Spilled Berries & Red Wine

mulled red wine sauce, chocolate cup, meringue, berries, vanilla ice cream

$6
By the Glass
White

Prosecco Brut Zardetto

Veneto, Straw-lemon with a fine perlage. Fragrant aromas of peach, citrus, and tropical fruits

Glass $10

Bottle $39

Riesling Chateau Ste. Michelle

Washington State, Sweet lime and peach character with subtle mineral notes

Glass $9.50

500ml $23

Bottle $38

Moscato d'Asti Bera

Piemonte, Gentle sweetness and lower alcohol is balanced by acidity with fruit and floral aromas

Glass $11.50

500ml $28

Bottle $42

Pinot Grigio Danzante

Friuli, Persistent notes of ripe summer fruits lead the way for lingering and fresh citrus

Glass $9.50

500ml $23

Bottle $38

Chenin Blanc/Viognier Pine Ridge

California, Mouthwatering honeydew, melon, juicy pomelo, and sweet starfruit aromas. Crisp palate with ripe fruit of pineapple, lychee, Meyer lemon, and white peach

Glass $10.50

500ml $27

Bottle $40

Chardonnay Sean Minor

Sonoma, Vibrant flavors of guava, pear, and green apple with a touch of minerality

Glass $12.50

500ml $32

Bottle $45

Sauvignon Gris Cousino-Macul

Maipo, Chile, Clear, soft yellow with bright edges, and with fruit aromas of ripe peach, juicy pineapple, and French lemon

Glass $11.50

500ml $28

Bottle $42

Fume Blanc Ferrari Carrano

Sonoma, Flavors of yellow peach, pear, quince, Meyer lemon, mango, and fruit cocktail. Bright acidity and crisp freshness

Glass $11.50

500ml $28

Bottle $42

Sauvignon Blanc Ponga

New Zealand, Vibrant aromas of ripe citrus and tropical fruits on the nose lead into a refreshing palate full of white peach and grapefruit

Glass $9.50

500ml $23

Bottle $38

Rosé

Rosato Vitiano

Umbria, Juicy aromas of strawberries, plums, cranberries, along with scents of roses and gardenias

Glass $10

500ml $25

Bottle $39

Red

Carmenere Root:1

Colchagua Valley, Chile, Deep violet in color with rich, ripe aromas of black fruit and soft herbal spice notes

Glass $9.50

500ml $23

Bottle $38

Pinot Noir Elouan

Oregon, ripe cranberry, sweet cinnamon, and fresh cherry on the nose with a subtle earthiness

Glass $12.50

500ml $32

Bottle $45

Merlot Drumheller

Washington, Aromas of blueberry, subtle spice, and rose petals with hints of cocoa. Balanced in style, this wine is structured yet lively

Glass $9.50

500ml $23

Bottle $38

Cabernet Ferrari Carrano

Sonoma, Aromasofriperedplums, cherries, redcurrants, with notes of herbs and spices like nutmeg and cocoa

Glass $16

500ml $38

Bottle $52

Cabernet Plungerhead

Lodi, Flavors of blackberry compote, blackstrap molasses, fresh oregano, and an integrated note of toasted coconut coat the palate

Glass $10.50

500ml $27

Bottle $40

Malbec Catena "Vista Flores"

Mendoza, Dark violet color, with dark fruit aromas intermingled with floral notes and a touch of anise

Glass $11.50

500ml $28

Bottle $42

Zinfandel Big Smooth

Lodi, Vivid aromas of black plum, dried cherry, fig, and fresh bramble fruit. Juicy fruit flavors of boysenberry and pomegranate mingle with freshly shaved coconut and subtle black pepper notes

Glass $10.50

500ml $27

Bottle $40

Ungrafted Red Ghostrunner

Lodi, Cabernet Sauvignon, Petite Syrah, Syrah, and Zinfandel. Aromas rich in mixed berries and black cherry preserves. Hints of spice, including black pepper and bacon

Glass $9.50

500ml $23

Bottle $38
*May contain raw or undercooked meats, poultry, seafood, shellfish, or eggs. Consuming raw or undercooked meats, poultry, seafood, shellfish or eggs may increase your risk of foodborne illness, especially if you have medical conditions.
White Wines
Minnesota Cuvee Murphy Goode

Alexander Valley, This 100% Chardonnay brings forth toasty vanilla and coconut notes from Minnesota oak barrels

$35

Caymus Conundrum

California, Layers of peach, apricot nectar, green melon, and pear, subtle notes of citrus zest and vanilla spice

$40

Pinot Gris Adelsheim

Willamette Valley, Dominated by yellow fruit such as Mirabellejam combined with aromas of candied fruits and a delicate touch of bergamot

$39

Sancerre Jolivet

Loire Valley, This Sancerre is fresh, clean, and screaming with racy acidity. Sweet floral aromas with slightly peppery citrus notes

$52

Sauvignon Blanc Kenefick Ranch

Calistoga, Concentrated notes of grapefruit zest, wild lilacs, and gooseberry to form the aromatics. On the palate, white peach, Meyer lemon, and fresh cream middle

$42

Arneis Blange Ceretto

Piedmont, Medium straw in color, with aromas of pears, apple blossoms, beeswax, and almonds. Soft palate with round, nutty flavors overlaying subtle minerality

$45

Chardonnay Paul Hobbs "Russian River" 2012

Sonoma, Livelyaromas of yellow flowers, custard, mandarin oil, and stone fruit. Layers of stone fruits, lemon zest, melon and apple on the palate

$98
Taps
Summit EPA

Extra Pale Ale

MN $7.50

Finnegans Irish Amber

Amber Ale

MN $7.50

Lift Bridge Farm Girl

Saison–Belgian Style Wheat

MN $7.50

Lift Bridge Hop Dish

India Pale Ale

MN $8

Fulton Seasonal

Changes seasonally

MN $7.50

Grain Belt Premium

American Lager

MN $7

Big Wood Morning Wood

Coffee Stout

MN $8

Ciderboys First Press

Traditional Hard Apple Cider

WI $7.50
Bottles & Cans
Summit Saga IPA

India Pale Ale

MN $7

Fulton Blonde

American Blonde Ale

MN $7.50

Grain Belt Nordeast

American Lager

MN $6.50

Lift Bridge Cranberry Apple

Hard Seltzer

MN $7

Lift Bridge Berry

Hard Seltzer

MN $7

Surly Furious

India Pale Ale

MN $9.25

Big Wood Morning Stout

Coffee Stout

MN $7.75

Budweiser

$6

Bud Light

$6

Coors Light

$6

Miller Lite

$6

Michelob Ultra

$6

Amstel Light

$7.50

Heineken

$7.50

Corona

$7

Stella Artois

$7.50

Blue Moon

$7.50

Buckler

$7
Red Wines
Zinfandel Beran

Sonoma, Aromasofjust-baked blueberry pie, raspberry, and dark chocolate. On the palate are beautiful red and blackberry fruits with cloves and pepper

$69

Pinot Noir Planet Oregon

Oregon, Sustainably produced 100%Pinot Noir is fresh, silky, and suggestive of Oregon summer fruits.

$40

Pinot Noir Banshee

Sonoma Coast, Beautiful balance between both red and blue fruits, notably bing cherry and Asian plum. The wine has good carry through the front to finish with lively acidity to keep it light on its feet

$52

Pinot Noir Knudsen Vineyard

Dundee Oregon, Bright aroma of raspberry, cranberry, and a hint of spice. This exquisite Pinot Noir offers a luscious mouthfeel, delivering a tasty, lingering and elegant finish

$85

Red Blend Treana

Paso Robles, 70% Cabernet Sauvignon, 30% Syrah. Aromas of red cherry and pomegranate are enhanced by flavors of plum, allspice, and vanilla

$62

Red Blend Blackbird Arise

Napa, Bordeaux style: Cabernet, Merlot, Cab Franc. Aromas of blackcurrant, Iris, and nutmeg. Flavors of licorice, cherry, and fig

$90

Cabernet Sauvignon Ferrari Carrano

Sonoma, Aromas of black cherry, boysenberry, clove, cedar, and tea. Flavors of blackberry and vanilla followed by dark chocolate

$52

Cabernet Sauvignon Jordan

Alexander Valley, Aromas of blackberry, blueberry, and cassis mingle with hints of violet and dark chocolate. The silky palate has a vivid core of cassis

$105

Cabernet Sauvignon Cade Estate

Howell Mountain, Aromas of clove, cranberry, raspberry, coffee, cinnamon, and black pepper. Notes of mulberry, blackberry, and blueberry soar from the palate

$125

Cabernet Sauvignon Silver Oak

Napa Valley, Aromas of cassis jam, mocha, violets, and nutmeg. A dark ruby color featuring a berry-laden entry and long, satiny finish

$180

Merlot Pride Mountain

Napa Valley, a sumptuous nose of bright plum, cherry, rose petal, mulberry, and walnut. The palate is layered and lush, expressing undulating waves of red fruit woven together by rich mid-palate and vibrant acidity

$105

Tignanello Antinori

Toscana, Aromas of raspberries and licorice, with hints of black cherries, tobacco, and smoke on the finish

$150

Beaune Premier Cru Faiveley "Clos de I'Ecu" 2009

Beaune, Silky texture with cherry, raspberry, and mineral flavors. Balanced with a long, spicy and stony aftertaste

$150
Bubbles
Brut Prestige Mumm Napa

Napa Valley

$46

Champagne Veuve Clicquot

France

$110

Grand Brut Perrier Jouet

Epernay

$98